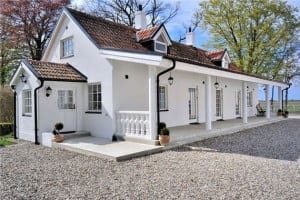 Our professional staff can donate the exterior of your home or building a fresh, new look with a professional painting. Painting the exterior of your home not only provides you with a new, clean look; it moreover provides your home's exterior surfaces with a necessary layer of protection from the environmental elements. For that added protection & a more finished look, we backroll & brush paint after most spray applications. This added step will enhance the look of your newly painted structure & achieve a longer lasting paint job. 

          But before our professionals paint your home or building, we first take the crucial steps to properly prepare the exterior surfaces before the paint is applied. We start by pressure-washing the outside of your home or building to remove peeling chips of paint, bugs, dirt, cobwebs, & chalkiness (residue from deteriorated paint). Then, the exterior surfaces must be allowed to dry out. After pressure washing, certain areas will probably need additional preparation, such as scraping, sanding, & priming with a high quality exterior primer.
By taking the time to properly prepare the exterior of your home or building, it will assist the application of the new paint to better adhere to its surfaces thus decreasing the chances of chipping with the new paint layer & extending the life of your new paint job. 

Our next step is to fill deteriorated areas with spackle, caulking, or acrylic/ elastomeric paints. If we find that some areas of your home or business' exterior are in need of repairs or replacements to damaged areas, we can complete that work as well. The final result will be a beautifully painted home that's quality will last. Just click here or call us at 877-573-2653 to be connected to one of are service representative's.


Click the link below to use the Sherwin-Williams color selector tool
---
GD Star Rating
loading...
GD Star Rating
loading...
Exterior Painting

,