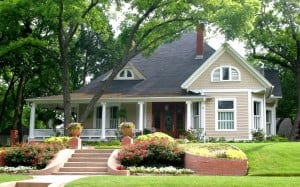 Damaged gutters are more than just an eye sore proper gutter repair ensures proper function and add's to your home's outward appearance. A leaking, broken, or damaged gutter will hinder water from being diverted from your home thus allowing it to accumulate in areas which will in time cause damage to your home.

Our experts can complete the necessary gutter repair to your gutter system and have it working properly once again.
Some other common gutter repair include:
Re-sealing seams and corners.
Re-securing the gutters by adding additional hangers "Pictured Below".
Re-attaching downspouts.
Re-pitching gutters that aren't flowing correctly.
Adding downspouts to redistribute water and increase capacity.
Overall "tightening up" of the system.
[Not a valid template]
       Maintaining positive drainage away from the homes' foundation is also another necessity. Water that continues to pool next to the foundation can leak into the basement or cause structural concerns.
       We will diagnose and offer solutions to most negative drainage issues as well as offering free advice on what you can do to help your gutter system work efficiently.
       For a free estimate click on the click to call button below to be connected to one of our Service Representatives.
GD Star Rating
loading...
GD Star Rating
loading...
Gutter Repair

,