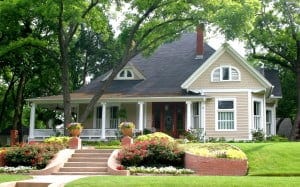 The protection of your home from water damage is crucial in the maintenance and care of your property. Rain gutters are aid in this process by fitting just under the eves of the roof and direct the water through troughs and downspouts that conform to the walls to places far enough away from the house to reduce water damage. Rain gutters keeping the rain away from the areas around the house itself and keep the water from seeping into the foundation. Flooding into the foundations, basement or crawl spaces can cause erosion around the house and permanent damage to the structure. And since many insurance policies do not cover damage from flooding, in is vital to have a method to keep the water away. Installing rain gutters is a fairly inexpensive way to protect the structure of your house and ensure a sound foundation.
Rains gutters are made out of several types of materials; the three most common of which are aluminum, PVC and copper. Some are constructed out of wood, but this is rare. PVC gutters are the least expensive of the three and are the easiest to work with; they can fit any house and come in various color choices to match your home (this type is not recommended overall this type does not last the test of time). Aluminum gutters cost more but are far superior they are the toughest of the three , they also last the longest and come in various color choices to match your home they also can be painted to mach the trim of your house. Copper gutters are the most expensive but they look great and conduct heat well, so if you live in a very cold climate, they can help with ice buildup.
There are two types of rain gutters. First is a seamless gutter system. Each edge of your roof is fitted with a single strip of painted aluminum. These rain gutters are constructed right at your home by Everything Gutter and can span up to 500 ft of roof length. The second type is the older system, where sections or pieces of gutter are fitted together into a custom arrangement and configuration witch leaves you with seams all over, this is the older type system witch we currently do not use and do not recommend.
Rain gutters are relatively easy to maintain and should be cleaned and inspected at least twice a year. If you have a lot of trees around your property, you might need to clean them more often. Cleaning involves removing leaves and debris and washing them with a high pressure hose. If you live in areas that require more cleaning, or have a lot of trees, you may want to look into gutter protection devices that cover the opening of the gutter. This allows water to go into the gutter, but the debris fall over the edge of the roof.
If rain gutters are installed properly, they will look great, prolong the life of your foundation and reduce future cost of repairs down the road. So if you decide to install rain gutters, Contact us to get your free evaluation on cost, materials and layout.
Types of Residential Rain Gutters

,