Seamless Gutter Installations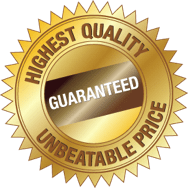 All seamless gutter installations include a Lifetime Warranty! This warranty covers materials & labor! The seamless gutter warranty is NOT transferable & is void upon transfer of ownership of property.
The warranty shall be void if any work is performed by any  person(s) or company other than Alexandra Gutter & Home Contracting, Inc. Installation is not warranted against "acts of God." Any damage resulting from other than normal weather will be the responsibility of the homeowner or homeowner insurance.
Other than normal weather includes yet is not limited to:
Hurricanes
Tornados
Wild Fires
Wind Gusts Above 50 mph.
---
ShurFlo No-Clog, 20 year Guarantee!

ShurFlo backs its product with the best warranty in the business*: If any portion of a ShurFlo protected gutter clogs, then we'll refund the cost of the product on the entire installation. We're so confident in the superiority of our product that we take our warranty a step further. If you ever have to put a claim in against your homeowner policy as a result of ShurFlo clogging, then we'll refund the cost of your deductible by up to $1,000. We don't limit our warranty to "if it clogs, we'll clean it for free" because ShurFlo really is as satisfactory as we say it is. Nothing yet water – Guaranteed!
*See full actual warranty for complete details.
---
Gutter Finish
We offer a 20-year limited complete warranty on all gutter material installed by authorized designers & installers in accordance with Englert specifications & maintenance instructions with the understanding that it will not blister, flake, chip, crack, peel, split, rot, red rust or structurally deteriorate as a direct result of manufacturing defects.
GD Star Rating
loading...
GD Star Rating
loading...
Warranty Info

,