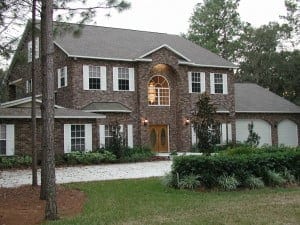 It is very significant to keep your gutter system routinely cleaned by removing leaves, twigs, & debris which clog your gutters causing them to overflow & leak with water. This debris hinders your gutters from doing their job of diverting water away from your home a proper gutter cleaning is essential. This will lead to more costly damage to your home. Moreover, a clogged gutter can easily lead to faster deterioration of your gutter system. During the winter's freezing temperatures, a clogged gutter can lead to an "ice dam" where backed up water freezes. This frozen water is very heavy & can cause serious damage to your gutters & home. Click here to learn more approximately ice dams & ice dam prevention.
Watch this short video on they Importance of keeping your gutters cleaned!
Cleaning your gutters is a necessity, yet cleaning your own gutters or hiring a non-professional to do it can be a risk. Every year, many people are seriously injure or even killed in household accidents. When cleaning out your gutter system, performing a gutter cleaning, you risk falling off of ladders & even electrocution from electrical lines connected to the home. Moreover, a homeowner & their insurance company could be held liable for payment of injuries sustained if someone who is not themselves properly insured is hired to clean your gutters for you. Our company specializes in gutters. We will be able to provide for you the proper documentation to assure you that we carry the proper liability insurance as well as worker's compensation. Our professionalism & expertise will donate you peace of mind that your gutter system will be properly cleaned without having to worry approximately safety.
Safety
Safety is of the utmost importance all of our employees are properly trained in the safe use of ladders & fall protection. We will be pleased to provide you with copies of our Workers Compensation & Liability Insurance certification.
When To Clean Your Gutters
We suggest cleaning your gutters in the early spring, before the spring/summer rains & then again in the fall after the leaves have fallen. A clean gutter system during the winter is less prone to ice damming issues. To read more on when to clean your gutters go here to Gutter Cleaning Schedule.
Thinking of doing a DIY gutter cleaning or would like to see How to clean your gutters properly & safely then watch this short video below as we demonstrate how to clean gutters. Give us a call we would love to clean your gutters for you!
Maintenance Plans
We offer annual, bi-annual & customer tailored cleaning plans at discounted prices. We moreover offer emergency cleaning & repair service on a priority basis. Contact us to discuss a plan that's right for you.
These are some of the many reasons homeowners contact us regarding a Gutter Guard. Most homes without a satisfactory gutter cover system need gutters cleaned a minimum of two times a year, & depending on your yard's vegetation, even more often. Not only do Gutter Guards add beauty & value to your home, our warranty ensures that you will never need to purchase another gutter guard again! For a free estimate on a gutter maintenance program or a gutter guard just click here or call us at 877-573-2653 to be connected to one of are service representative's.
What approximately downspout strainers won't they work or at least help? To learn more approximately downspout strainers watch the below video.
---
GD Star Rating
loading...
GD Star Rating
loading...
Gutter Cleaning

,