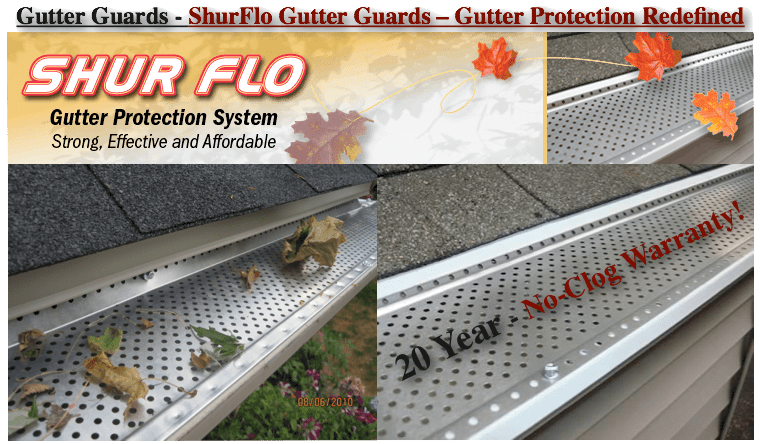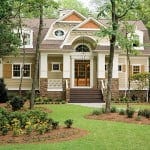 What makes ShurFlo different Makes ShurFlo Far Better – ShurFlo Gutter Guard does not go under your roof shingle and has a patented angle built into the design of the system, so debris will not sit on the system! ("It stays clean just like your roof stays clean") ShurFlo just attaches to the gutter! Then it is screwed into place. "So ShurFlo does not effect your roof warranty".

       ShurFlo also comes with a 20 year no clog guarantee "Most Gutter Guards Installers claim this but they actually do not, most warranties are exaggerated", or state a lifetime when there lifetime is ten-twenty years!!! ShurFlo offers a clear no clog 20 year warranty. ShurFlo has no slots or openings in the front to allow "bees" or "birds" into the system.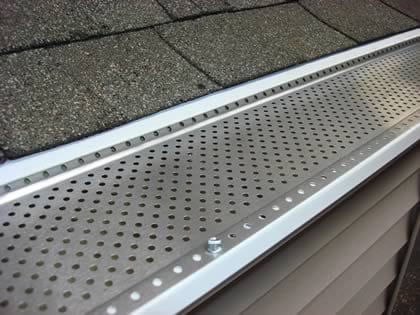 ShurFlo is also one of the only gutter guards on the market that requires No MAINTENANCE! an comes with a 20 yesr No-Clog warranty ShurFlo is the clear choice for gutter protection 93% of every homeowner that sees ShurFlo chooses ShurFlo Gutter protection over any gutter guard on the Market!!!
FREQUENTLY ASKED QUESTIONS
Will anything clog Shur Flo?
Will Shur Flo work during heavy rainfalls?
Will I have to replace my gutters?
How long will Shur Flo last?
Will Shur Flo work with metal, shake, or tile roofs?
Will Shur Flo work when covered with wet leaves or pine needles?
WILL ANYTHING CLOG SHUR FLO?
No, the perf flow drain holes allow only water to enter your gutters. Your gutter will always remain free flowing.
WILL SHUR FLO WORK DURING HEAVY RAINFALLS?
Shur Flo's capacity for water greatly exceeds U.S. record rainfall amounts.
WILL I HAVE TO REPLACE MY GUTTERS?
No! Shur Flo can be installed on 5″ or 6″ gutters. Unless damaged, there is no need to replace your existing gutters.
HOW LONG WILL SHUR FLO LAST?
Manufactured with hi temper aluminum, it will never rust, rot or distort.
WE GUARANTEE IT!
WILL SHUR FLO WORK WITH METAL, SHAKE, OR TILE ROOFS?
Yes, Shur Flo is installed on top of your gutters. It performs well with any type of roof material or roof pitch.
WILL SHUR FLO WORK WHEN COVERED WITH WET LEAVES OR PINE NEEDLES?
Yes! Testing shows Shur Flo's filtration system keeps working even when covered by wet leaves or debris.
1. Request Your Estimate. Arrange for a free estimate today, by calling Everything Gutter today at 1-877-573-2653 or by submitting an Online Quote Request.
2. Everything Gutter Proposal. We'll schedule a short visit at your home with an Gutter Guard technician. Our trained gutter professional will inspect your gutters and answer your questions. We'll present a complete, professional proposal at that time or one will be emailed.
3. Free Gutter Cleaning. When your Gutter Guard installers arrive to install your system, they will first clean your gutter-for free. It's the last time you'll ever need to have your gutters cleaned.
4. Adjust and Seal. Everything Gutter will seal, adjust and check the alignment of your gutters as neede-for free.
5. Custom Fitting. Your Gutter Guard installers cut and install each panel individually, and then fit them to your home. In most cases, we'll complete your installation in just one day. ALL WORK GUARANTEED FOR LIFE! – Expect Superior Service! To schedule your free gutter guard estimate just hit the click to call button below to be connected to one of are service representative's.
Shur Flo Gutter Guard - Gutter Protection Redefined

,