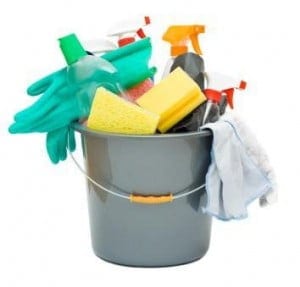 When it comes time to clean your gutters, aside from ladders, pressure washers, & a variety of buckets, there aren't a lot of advertised products designed to reduce your overall time on the ladder. From robots to pressure washer attachments, scoops to gutter tongs, these products are designed to save you time & money, so maintaining vital efficiency of your gutters will be a much smoother & safer task.
Without a doubt, using a pressure washer is the best method for cleaning gutters. Debris & sediment won't stand a chance against the force of the water, & the grime & film that couldn't typically be removed using a pair of gloves is effortlessly blasted away. However, using a pressure washer on a ladder has some obvious safety concerns, & there have been many serious injuries resulting from homeowners falling from ladders while trying to negotiate cleaning, balancing, & using a pressure washer. But with a wand & a gutter cleaning attachment – such as the Apache Gutter Cleaner Spray Tip – cleaning gutters is a breeze, & as safe as it gets. The attachment is designed to fit virtually every type of power washer extension wand, rendering the use of a ladder unnecessary.
Not looking to own a pressure washer in the near future? Gutter tongs are another option for those that wish to clean safely from the ground. Gutter tongs, like the Ultimate Rain Gutter Cleaning Tool, can be attached to standard extension poles & are light enough to easily reach gutters on two-story homes. The jaws are opened, clamped around debris, & easily lifted to remove the sediment & foliage found in your gutters. The tongs can moreover clamp onto your garden hose nozzle, allowing you to operate the spigot to flush out smaller debris that might have been missed without having to repeatedly scale the ladder or recruit a friend.
Gutter scoops are another alternative to pressure washer cleaning, yet unlike the washer extension or the gutter tongs, the scoop requires the use of a ladder. Gutter scoops are cheap & available at nearly every hardware store, so getting your hands on one shouldn't be a problem. It works well for debris that's a little tougher to grab by hand, like seeds, pine needles, & muddy sediment, yet when you're already up on the ladder, trying to juggle a bucket & your balance, adding another gutter cleaning tool into the mix seems a bit risky. Most homeowners would say that just using gloves is sufficient yet if you have a lot of sludge in your gutter channel, finding a safe way to use a bucket & a scoop on a ladder should be on your to-do list.
If you're completely opposed to manually cleaning your gutters, hiring a professional service will be your best choice.
GD Star Rating
loading...
GD Star Rating
loading...