If you are reading this, you are already well aware that functioning gutters are critical to the long-term health of your home's infrastructure & landscape. Leaky gutters can result in damage to your home's foundation, basement leaks, landscape erosion, roof rot & moldy attic space. If your gutters are damaged beyond repair, then purchasing new gutters is necessary to protect your home.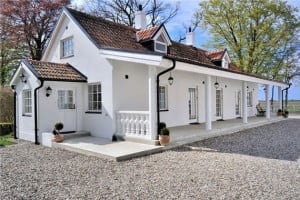 How Much will new Gutters cost?
As is the case with most home improvements, cost is one of the first things you think about. When calculating the cost of gutters, the first thing to consider is whether you are installing the gutters yourself or hiring a contractor to install them for you. If you are installing gutters yourself, then your cost for new gutters will be derived simply from the quality & volume of materials you need to purchase. The following overview discusses the material cost of the different types of gutters that are commonly found on the market today.
Cost for Gutter Materials ONLY?
Gutter materials – gutters & downspouts – vary quite a bit in cost depending on the quality of the material. Let's take a look at the different gutter materials available, some pros & cons of each, & the associated costs you can expect to pay.
Vinyl Gutters & Downspout Cost: $1 to $3 per Linear foot
Vinyl is the least expensive material on the market, & the easiest to work with, making it a satisfactory fit for "do-it-yourself" (DIY) projects. The knock on vinyl is durability, as it weakens faster than other materials, especially in cold climates. The cost for vinyl gutters & downspouts would run you roughly $150-$450 in gutters & downspouts for a 150 linear foot project. This option is not recommended, looking to do a DIY(Do it Yourself) then search our how to videos to complete the gutter installation professionally.
Aluminum Gutters & Downspout Cost: $5 to $15 per Linear Foot
Aluminum gutters & downspouts are a significant upgrade from vinyl. In addition, aluminum gutters are rust-resistant & come pre-applied with a non corrosive coating, making them last far longer than vinyl gutters. However, aluminum is still a malleable material that can easily be bent & damaged by ladders or large branches. Aluminum gutters & downspouts, which come in various sizes & thickness (gauge), can moreover be attached in various ways that affect the longevity & cost as well. Given all the various options on aluminum gutters, they will cost you roughly $750 – $2,300 for a 150 foot project, depending on the size of gutter, gauge & attachment method you select for your home.
Galvanized steel gutters are simply more durable than aluminum & vinyl. They will stand up to more severe weather & do a better job of standing the test of time. However, they are heavier & more complicated to install, usually requiring soldering, so they are not the best choice for DIY projects. Material costs for steel gutters would run you $2,400-$3,800 for 150 feet of gutter & downspouts.
Copper Gutters & Downspouts Costs: $30-$40 per linear foot
The main reason you would select copper gutters is for aesthetic purposes. While copper is a strong & durable material like steel, the exorbitant cost in material alone makes it prohibitively expensive for most homeowners. Expect materials to run in the $4,500-$6,000 range for a 150-foot project. Since copper is so expensive & complex to work with, only the most skilled gutter installers should take on the job. So, unless you are an experienced gutter installer, expect to pay a considerable labor cost on top of the already-pricey material costs plus the extra cost of hiring a security guard or system to watch over your gutters 24/7.
Gutter Guards: $.50 to $10 per linear foot DIY screens & filters; $15-$30 per linear foot on a professionally installed system
Once you have the gutters & downspouts, you may want to think approximately getting gutter guards to keep out leaves, pine needles, & other debris that can cause clogs. The least-expensive option is mesh screens (from box stores or online retailers) that attach across the top of the gutters, which may only set you back $100-$800 for a 150 to 200 linear foot project depending on quality that you choose. From the cheaper end of the gutter guard market, you can move up to a product such as a filter which can run you anywhere between $1,000-2,000 for a 150 foot project depending on quality you choose. There are moreover foam & brush products that sit inside the gutter & allow water to seep through them while repelling solid debris. They generally would run approximately $400 to $600 for a 150-foot project. For all store-bought gutter guards, add another $200 to $400 for the labor involved in installing them & note they do not come with a material or performance warranty like professionally installed systems.
Hiring a Professional Gutter Installer: $3 to $10 per foot
If you select to use a professional installer to install your gutters, the cost will obviously go up. Installers generally charge by the foot, yet prices will vary from region to region. The type of gutter you use will moreover impact the cost; the more durable the material, the more difficult it will be to to manage & install. You should expect higher costs for more high-end gutters & downspouts, such as galvanized steel & copper. A satisfactory rule of thumb is that a professional installer will cost roughly three times the cost of materials.
When looking for a gutter installer, shop around. Look for the best price yet don't shop by price alone. There are a lot of so-called "professional gutter installers" out there without experience or the necessary skills to properly hang gutters. Check references. Check the Better Business Bureau. Click here now for a free quote!
GD Star Rating
loading...
GD Star Rating
loading...