Copper Gutter — it's the most elegant & prestigious choice for a rain gutter system available. Hands down.
You're likely here because you're considering copper gutter for your own home. You may have heard it's the most expensive option on the market (you're right). You may moreover sense that copper gutter would add a truly dramatic look to your home — & possibly even be a satisfactory long-term investment.
Copper may be for you, or it may not. I want to assist you find out.
Customers walk into our building supply warehouse often & ask themselves this same question. Let's imagine you walked into our warehouse too. It's time to talk pros & cons. Here's the exact checklist we'd walk through together: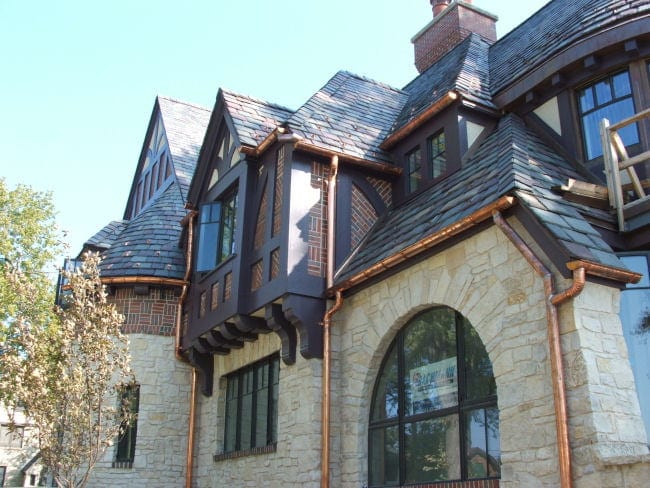 Would copper gutter suit your dream home?
Your home is one of your most valuable assets. It's your masterpiece, a reflection of your personal taste, it's your own piece of heaven.
Cost simply has to be one of the last considerations in the equation (ahem.. see the next question below). The conversation has to commence with the sincere, deep-rooted feelings you have for your home. Do you truly want the very best for your home?
To you & your family, your home may be your own, personal Fallingwater. In such cases I almost always recommend using the best materials you can that suit your theme. Your gutter selection is an significant material among these, as it's highly visible from all sides of the house.  So, if copper truly enhances the natural, distinct, thoughtful details of your dream home, then copper might be a winner.
Are you willing to pay for copper vs aluminum?
Okay, let's obtain into the meat & potatoes. What does copper gutter cost relative to aluminum?
Let's use 2 different homes to use as examples. First, we have House A — a popular 2-story, 2,000 sq ft home.  A home this size will require about 200 linear feet of rain gutter — that's approximately the national average. Second, we have House B — a 3-story, 6,000 sq ft estate. For kicks, let's pretend it's an Italian-style villa overlooking the Pacific Ocean. House B will require about 400 linear feet of gutter.
Quick disclaimer here — keep in mind that a majority of gutter installation cost depends on your general contractor's rate, ability & zip code. You're always wise to check with several different contractors for quotes on gutter to find the best value possible.
A standard, aluminum gutter system will run a homeowner approximately $3.50 to $7.00 per linear foot (again, range dependent on contractor rate). For House A, the total cost after material & labor would range between $700 & $1,400 in total. For House B, the total cost would fall between $1,400 & $2,275.
Now, let's switch to a custom, copper system and run the same numbers. Copper will run $18.50 & $26.00 per linear foot. Installation for House A will cost approximately $3,700 – $5,200. For House B, approximately $7,400 – $10,400.
There you have it: the cost to fully install the most desirable gutter system the world can offer. Here's how it compares visually; this chart is the average of the costs outlined above.  Yes, copper will cost 3x, 4x, & in some cases even 5x more than aluminum gutter. That's why I defer to that first question — are you able & willing to make your dream home the best it can be?
Average cost comparison for a 200 linear ft system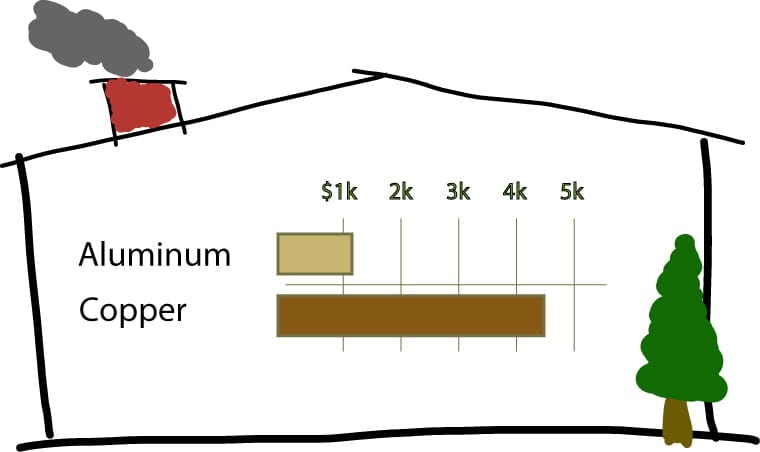 Do you understand why copper is more expensive?
Important to know all the facts. Let's deconstruct what you're paying for here:
Copper is a much more expensive alloy than aluminum — you probably knew that.
You moreover need copper everything, including accessories & fasteners. Aluminum hangers will react adversely & actually break down the copper. A definite no-no. Always hang copper with either copper itself, brass or stainless steel.
Copper requires extra time & care for your contractor to install & prevent pre-mature tarnishing. Copper even requires special gloves for installation.
Copper often requires additional soldering around the joints. Extra work = more labor = higher cost.
Are copper gutters a satisfactory long-term investment for you?
Like other investments in life, your decision to purchase a copper gutter system will depend on a variety of factors, your end goal, & ultimately, what makes you happy. Some more questions to consider:
Is the home or building in an exclusive, high-end neighborhood? Will copper assist your home stay consistent with your neighbors' homes?
Do you want your home to truly pop out among other homes in your neighborhood? How will the extra curb appeal assist increase the value of your home?
What is your time horizon? If you plan to live in your home for 30+ years, your copper gutter should hold strong & hopefully satisfy your aesthetic tastes for decades. Likewise, if you plan to sell in the short-term, a copper gutter system could be one of the extra fine details that has your prospects swooning.
Are you replacing pre-existing copper spouting? If it was satisfactory enough to impress you to purchase, it will likely achieve the same effect when you go to sell. Is it worth the risk to "cut corners"? That's for you to decide.
How significant a factor is durability to you? If you want the most durable & lost-lasting material for gutters, copper is it. It's a more solid alloy than aluminum, it never rusts & it never needs painting.

Do you love the look of copper?
Ultimately, this perhaps the most significant question. We're passionate approximately gutters here, yet it's not too often we hear customers say that gutter warms their soul like, say, the look of a terra-cotta roof.
Not to be dramatic, but seeing copper gutter should warm your soul. That's the clincher. You need to love it.
Brick, stone, stucco, wood, slate — all these materials tend to look GREAT with copper gutter. Also, do you truly like the look of tarnished copper? If you live in the Pacific Northwest USA, you will likely see your copper gutter turn green within a year or two. If you live in sunny San Diego, then your copper gutter will likely keep its original color for years.
It depends on the climate where you live. It's significant to know if you would truly love your home with copper-colored OR time-weathered green gutter. Both looks can work, yet again, it's your personal preference.
GD Star Rating
loading...
GD Star Rating
loading...